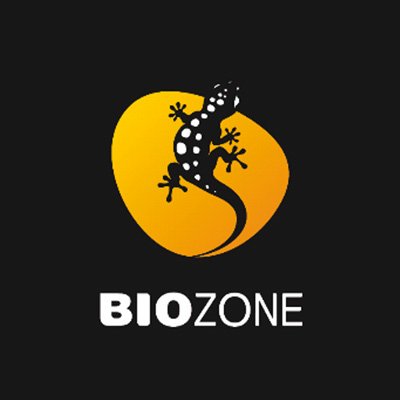 Biozone
Booth
A3
Bridgnorth
https://biozone.co.uk
BIOZONE specialises in the production of high quality student instructional materials and teacher resources for high school sciences (grades 9-12) in both traditional print and digital media. With titles specifically created for the United States, United Kingdom, Australia, and New Zealand, editions have also been tailored to international programs such as International Baccalaureate and Cambridge International Examinations. BIOZONE books have been translated into a number of foreign languages, including Chinese, Japanese, Polish, and Slovenian, as well as specific English-language editions compiled for Italy.
The soul of BIOZONE is defined by our goal to improve science education performance in schools across the world. We support teachers in their daily challenges of teaching and help achieve the aim to make students not only succeed in the classroom, but in their future.
BIOZONE is passionate about people understanding science. The subject surrounds us daily. Our understanding of science is constantly evolving and changing, and we are delighted to help open this exciting world to a young audience. Ensuring we are up-to-date with the latest advances in science is one of our main focuses.
Our aim is to Excite, Enrich, Engage and Empower students to succeed in science. These are the fundamentals of our pedagogical approach. We create unique cutting edge learning resources that are highly visual, provide compelling solutions, and create an exceptional learning experience. They often provide fascinating case studies and present real data from actual scientific investigations.
BIOZONE was founded by a high school science teacher who recruited a team of teachers and designers to help adapt what he had learned in the classroom. Together they have developed a suite of resources that meet the very real needs of teachers and students worldwide.
Coming from a teaching background, the team at BIOZONE understands the challenges of teaching science in a modern classroom with today's aspiring scientists.